NextHome Mammoth Lakes Achievement Awards
Posted by Valerie Gaxiola on Monday, May 9, 2022 at 3:41 PM
By Valerie Gaxiola / May 9, 2022
Comment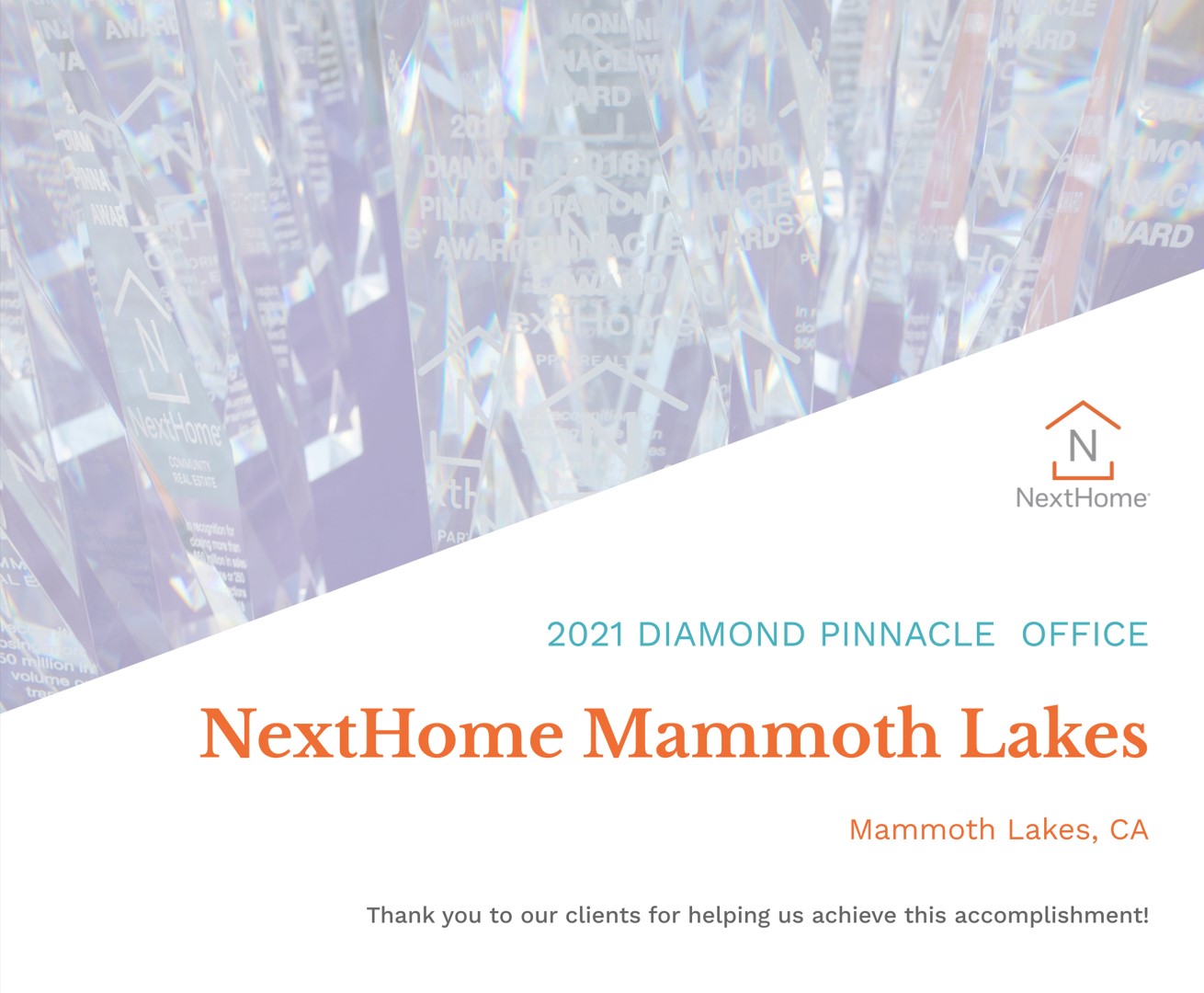 Buyer's, Seller's, and window shopper's alike can tell you that 2021 was a whirlwind of a year in terms of the real estate market. If you were lucky enough to purchase a property then congratulations on winning the property. If you sold a property then congratulations on getting multiple offers and most likely selling above asking price. & If you're still looking then, you know what they say, the best time to buy real estate was yesterday.
No one could have guessed that the housing market would have changed so drastically as a result of covid-19 but this market is showing to be the new normal. NextHome Mammoth Lakes had another record-breaking year and we have graciously been presented with 6 awards for the 2021 fiscal year. As a brokerage we have seen another statistically impressive year and we'd love to share some of our 2021 accomplishments.
Locally Ranking #2 Top Producing Brokerage in the area for another year in a row.
Transacted 208 sales sides.
Produced $129,074,202 in volume sold.
Totaling a 27.5% sales volume increase from the previous year.
Once again, it brings us great pleasure to congratulate 5 NextHome Mammoth Lakes agents that have received top producing awards.
CONGRATULATIONS,
Jake Wallace receiving the Premier Sales Award.
Nicole Godoy receiving the Master's Club Award.
Brandee Dell'Aringa receiving the President's Circle Award.
Gillian Parrish receiving the President's Circle Award.
Maggie Larson receiving the President's Circle Award.
Eric Leach receiving the President's Circle Award.
The criteria for these awards are as follows. This is a huge honor and we are very proud to have these amazing agents on the NextHome Mammoth Lakes team!
Premier Sales Award is 25 units sold or $6.6M sold in volume.
Master's Club Award is 35 units sold or $11M sold in volume.
President's Circle is 50 units sold or $16.5M sold in volume.
NextHome Mammoth Lakes as a brokerage has collectively has been presented the 2021 Diamond Pinnacle Award (as pictured above). This award represents the high achievements of the office as a whole with a combined production of at least 250 units sold or $55M sold in volume.
We are well into Q2 for the 2022 fiscal year and we have continued to stay busy by doing what we love to do in such a beautiful area as the Eastern Sierra. We look forward to another year of assisting great buyers and sellers with their real estate needs. Find more about NextHome Mammoth Lakes on our website by going to NextHomeMammoth.com and contact us today!
Submitted By: Valerie Gaxiola / Valerie@NHMammoth.com