Eastern Sierra Communities: Celebrate Autumn in June Lake
Posted by Maggie Larson on Friday, September 20, 2013 at 7:11 PM
By Maggie Larson / September 20, 2013
Comment
Grab your cameras and bring your appetite, it's time to celebrate the arrival of autumn in one of the most charming Eastern Sierra communities around, June Lake.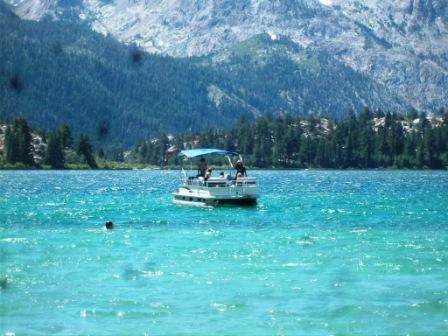 Located along the Mono Basin's rim at an elevation of 7,600 feet, it's a perfect place to spend a day or a lifetime.
Start your day in June Lake with a bountiful breakfast at the Tiger Bar & Café. Its home to some of the best blueberry pancakes, Belgium waffles, eggs and chicken fried steak around. Then hop aboard a helicopter with SkyTime's aviators and take a bird's eye view of the resplendent foliage. While you're flying over the area, be on the lookout for abundant wildlife and waterfalls too.
When you're finished marveling at the landscape from above, strap on your hiking boots and channel your inner Ansel Adams. That's because there are plenty of beautiful spots to explore on foot in the nearby Ansel Adams Wilderness. It sits nestled between the Sierra National Forest, Yosemite National Park and the Inyo National Forest.
There are several spots to enjoy a day hike or backpacking within the June Lake Loop Ranger District. The Glass Creek Meadow Trail will take you to the famed behemoth known as the Obsidian Dome. For rock hounds and geology buffs, it's truly a sight to see. However, if volcanic rock isn't your passion, the Bloody Canyon or Rush Creek Trails may prove to be the better options. Just be ready for a workout and stay alert for signs of bear activity. June Lake is also a great place to take your kids to enjoy the water and rent a pontoon boat for your kids to enjoy.
If you get tired of hoofing it, stop by Ernie's Tackle Shop and the June Lake Marina. It's traditionally open until the end of October. Rent a boat, grab some snacks and head out onto the water for a bit of fishing. It's a superior spot to catch trout with the tackle shop's "secret sauce" and other proven techniques.
Depending on when you visit, you may want to save some time for the Annual June Lake Autumn Beer Festival too. This year, it's scheduled to take place October 5th at Gull Lake Park from 10 a.m. until 6 p.m. It's a super place to sip suds, sample mouthwatering chili and show off the photos that you took during your hike.
Understandably, those are just a few ways to welcome autumn in the Eastern Sierra community of June Lake. To learn more about the area, contact us toll-free at (855) GO-MAGGIE or stop by our Sierra Resort Real Estate Mammoth Lakes, California Facebook page. We'd love to have you "like" us and post your thoughts on Eastern Sierra's communities.