Commercial Flight Service Moves to Bishop
Posted by Valerie Gaxiola on Wednesday, April 6, 2022 at 12:20 PM
By Valerie Gaxiola / April 6, 2022
Comment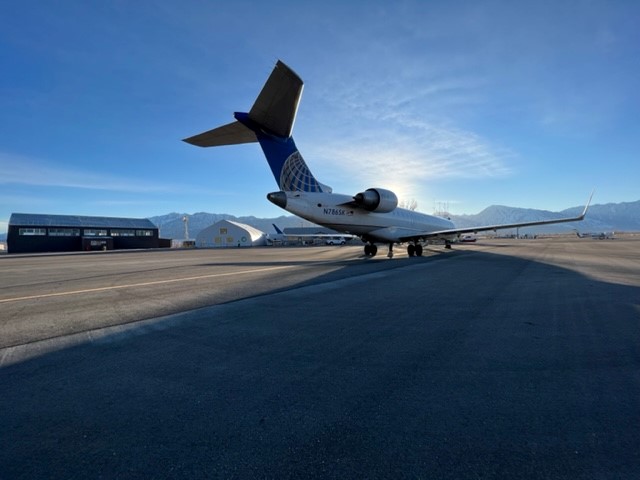 After commercial flight service at Mammoth Yosemite Airport came to an abrupt stop in March of 2020, speculation of a re-opening at this same location was up for debate. It has been a long-awaited transition of moving the flow of visiting air passengers to the Eastern Sierras down to an entrance point holding a lower elevation, where the weather is more stable and the air field is more accessible.
United Airlines in conjunction with the Town of Mammoth Lakes & Mono County tourism proudly wrapped up 2021 with the introduction of commercial flight service into Bishop, California. This rumored air service commenced and the future plans for the Eastern Sierra Regional Airport in Bishop, California are big, bold, and on the rise.
Starting in December of 2021 United Airlines offered direct flights to and from Denver (DEN), San Francisco (SFO), & Los Angeles (LAX) International Airports. Extending a seat of enjoyment on the Canadian Regional Jet with choices from first class, premium, economy, & basis economy seating. These flights are scheduled to continue through the end of March 2022. United expects to offer a limited summer flight schedule for 2022 with service to and from San Franciso (SFO) and will pick back up again for the winter service of 2022/2023. Stay tuned and up to date with the latest air schedule at United.com.
Transportation to and from Bishop/Mammoth Lakes has been provided by several local transportation companies including the very reliable and reputable Mammoth All Weather Shuttle (MAWS). Eastern Sierra Transit has also been a huge contributor to the success of these new regional flights by committing to safely and reliably transporting visitors to their specific individual destinations throughout Inyo & Mono county.
If you're a Southern California resident and are still set on flying directly into Mammoth Yosemite Airport to take full advantage of your IKON pass then there's a great new option to arriving via air travel from several Southern California destinations. Advanced Airlines has proudly taken over as the public charter flights, servicing, Hawthorne Municipal Airport (HHR), Burbank (BUR), and McClellan-Palomar Airport (CLD).
The success of these flights, deeply rely on the local support, just as much as the visiting traffic. If you are local to the Eastern Sierra's and would like to take advantage of the seasonal flight service on both United Airlines and/or Advanced Air you can receive a local discount code by inquiring at VisitMammoth.com.
The famous John Muir once said, "Going to the mountains is going home" and in a valiant attempt to streamline a reliable air service in the Eastern Sierra, a huge thank you is due to all entities working together to bring the people home!
Submitted By: Valerie Gaxiola / Valerie@NHMammoth.com